Date/Time
Date(s) - 01/06/2020 - 02/06/2023
4:00 pm - 10:45 pm
Location
United states
Join the virtual teacher party of the year! Experience a one-of-a-kind professional development experience for 2nd-8th grade teachers!
About this Event
Get Your VIRTUAL Teach On!
One or Two-Day Virtual Conference for 2nd-8th Grade Teachers on June 1-2, 2020
Are you ready to get your VIRTUAL Teach On?!? Now YOU CAN!! For the first time in GYTO history, teachers in Grades 2-8 can be a part of the MAGIC of our first ever virtual education celebration! That's right! We have gathered some of today's top educators to host the virtual teacher conference of the year filled with two days of exclusive content coming straight to your couch. Are you in? Grab your best sweatpants and get geared up for inspiration like you've never seen before!
It's time to Prioritize Your Life and Conquer Your Classroom!
Inspiring Keynote Speakers
Dave Hollis, Steve Spangler, & Dave Burgess

Incredible Presenters Over Two Days
Hosted by Hope & Wade King
Amelia Capotosta, Dr. Jody Carrington, Cara Carroll, Michelle Ferre, Brandon Fleming, Hawyard & Starlette Jean, Abby Mullins, Naomi O'Brien, Chris Pombonyo, and LaNesha Tabb
All-Access Pass Attendees Get FOUR Bonus Content Sessions
Josie Bensko, Ty Cook, Britt Jeltema, and Ashley Schroeder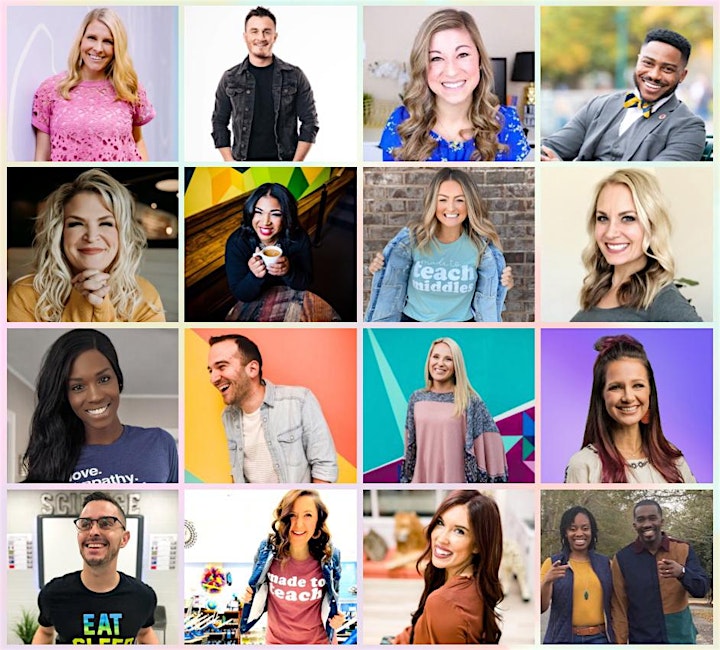 Agenda
Day 1 – Prioritize Your Life
It's Time to Get Your Virtual Teach On! with Hope & Wade King
Keynote: How to Get Out of Your Own Way During Uncertain Times with Dave Hollis
Fail Forward with Brandon Fleming
Pause and Prioritize with Hope & Wade King
Not Your Average Culture: Building a Responsive Culture with LaNesha Tabb and Naomi O'Brien
Kids These Days with Dr. Jody Carrington
Your Professional Life is Only as Good as Your Personal Life with Hayward & Starlette Jean
Self Care Respect with Abby Mullins
Day 2 – Conquer Your Classroom
It's Time to Get Your Virtual Teach On! with Hope & Wade King
Keynote: Teaching Outside the Box – A Crash Course in Creativity with Dave Burgess
Small Steps for Big Plans: A Guide to Short Range Planning with Amelia Capotosta
Accelerate Student Learning: Strategies to Make Progress Monitoring Meaningful with Chris Pombonyo
Take Your Time Back, Teacher with Michelle Ferre
Keynote with Steve Spangler
Prioritizing Parent Connections with Cara Carroll
Amplify Your Instructional Impact: 5 Transformational Teaching Habits with Hope & Wade King
All-Access Pass Bonus Content
Let's Get Interactive with Notebooks with Josie Bensko
Classroom Culture & Community with Ty Cook
Creating the Perfect Classroom Environment: A 10 Step Challenge with Britt Jeltema
Tame Your Space & Give it a Place with Ashley Schroeder
Click here to download the conference guide.
Agenda subject to change without notice.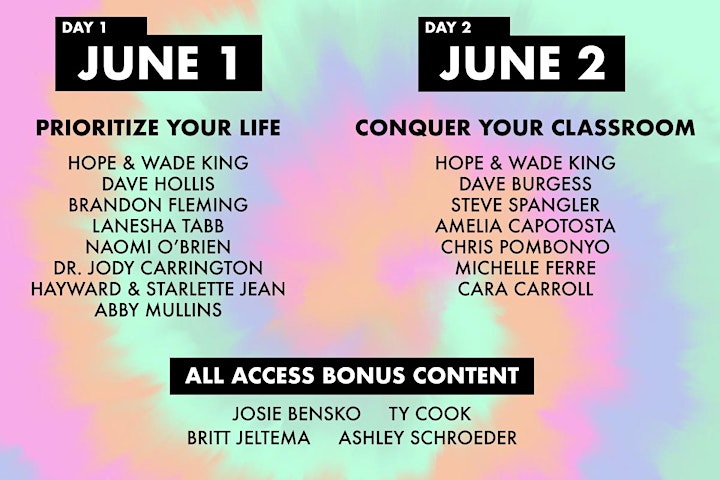 Join the Party!
Register for our All-Access Pass and get online access to Day 1 AND Day 2, video access for 30 days, FOUR bonus sessions, and Digital Swag!
Each day begins at 10:00am EST. Once you register for the event, you will receive links to access the webinars. Replay links will be sent after the webinar is over.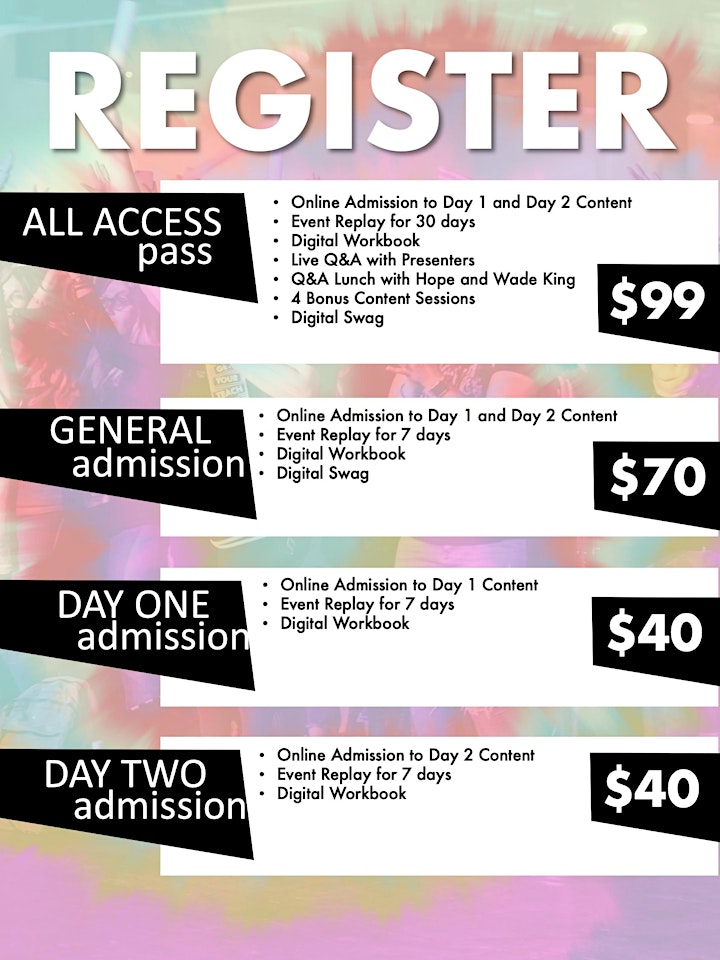 What Else?
Leaders & Administrators
Looking for an online experience for administrators and leaders? Be sure to check out our Get Your VIRTUAL Lead On experience on June 5th! This one-day online experience is hosted by Adam Dovico and Todd Nesloney and filled with inspiring presenters for administrators, leaders, and aspiring leaders. Click here to learn more.
Payment
With the conference coming up in just a few weeks and schools working remotely, we are not accepting checks or purchase orders for this event. All registrations must be paid with a credit card at the time of registration.
Click here to read more and pay
Multiple Attendees/Registering On Behalf of Someone
If purchasing multiple registrations or registering on behalf of someone else, you will be prompted to enter names and emails for each attendee. It is critical that you include the actual attendee's email as this is how they will access the online content. If your school district regularly blocks emails, we highly suggest using a personal email (like Gmail). Again, each attendee's actual email address needs to be entered during registration or they will not be able to access the online conference.
Certificate & Hours
All attendees will a certificate for the hours attended upon completing the conference. However, districts and states often have different requirements for hours, and we encourage you to check with your district to ensure this will count towards your professional development hours.
Official Merchandise
We're excited to announce Get Your VIRTUAL Teach On Official Merch! We'll be rolling out the merchandise in the coming days. Spoiler alert: it's comfy!!!
How Does it Work?
Get Your VIRTUAL Teach on is a a virtual conference in the form of a two-day online webinar. We will send links to attendees to access the streams closer to the event. Once the conference is over, we will share links to access the replay, which you'll have access to for 7 or 30 days depending on your ticket type, as well as any downloadable resources.